What is CEU InnovationsLab and who is able to benefit from your program?
The InnovationsLab is the startup incubator of Central European University. We have incubated 65 teams so far who raised 8 million euros funding and created 235 jobs. These are very good results and we are very proud of them, especially taking into consideration that we incubate early-stage startups. Most of the teams, who come to us, are in the ideation phase. By the end of the program, most of them get to the stage of generating revenue and they are able to grow in terms of size.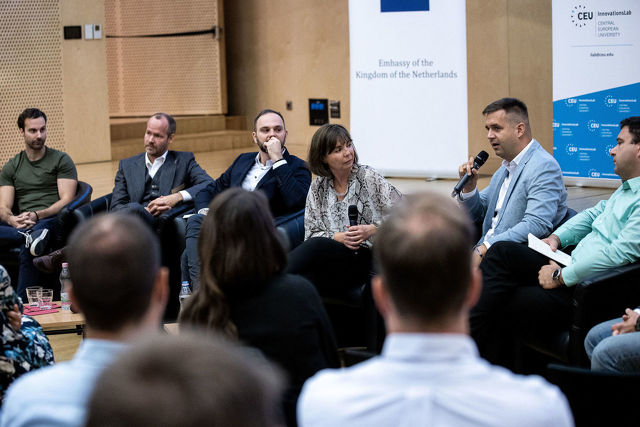 ambassador breakfast (source: CEU iLab)
I think any startup team can benefit from the program. We would really like to see companies who have the potential to scale. One of the key assets that we can provide to our teams is being involved in three markets at the same time (the US, Austria and Hungary). However, it is not only about the industry, but more likely the process that we can offer to our teams. The bottom line is that they should be a team from the first day. It is optimal, if at least one person from the team is located in Budapest or in Vienna.
As a startup incubator, how can you facilitate businesses towards success?
There are many elements and services in our program, but they would not be enough if we took them apart. It is the complexity that serves the teams., We offer a community with a coworking office, in which people like sharing their knowledge. The more they share, the more they can get. This ideology is completed with a three-layered mentorship system.
Teams get team mentoring sessions, in which they can participate 3 times throughout the incubation year. It is not only the content that is important, but also the fact that they participate as a cohort, again. They get to know each other, they understand that they are in the same shoes and they can mutually support each other. We also have individual mentoring. Once a month, they can meet with their lead mentors, who are industry experts in their fields. Besides, staff mentors, so called 'team gurus' bring the incubation perspective and help them overcome the typical pitfalls. Furthermore, teams also access skill mentors if they need information about a specific topic like intellectual property or risk management. In case of necessity, they can set up a one time consultation focusing on the issue. Last but not least, having access to the facilities, courses and the ecosystem network of CEU brings many more advantages for the cohorts.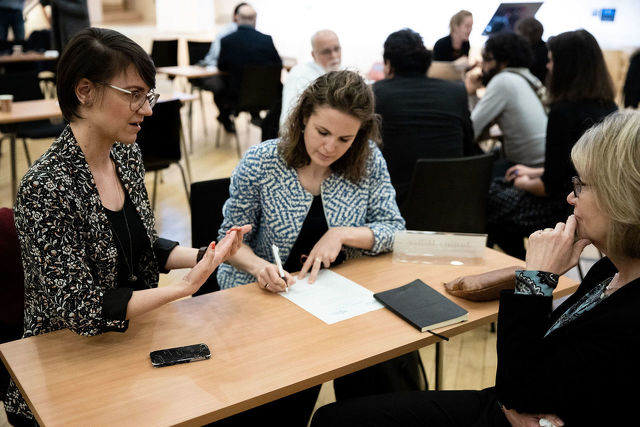 incubation event (source: CEU iLab)
So far 65 startups and around 200 members took part in your incubation. What professional fields are these people from?
Typically, they either come from big corporations where they worked as executives with many years of experience, but now, they want to start their own company. We also meet students from other fields like humanities, who have the entrepreneurial spirit and they would like to get familiar mostly with the business part through incubation.
How many employees stand behind iLab and what roles are represented in the management?
In the management team, there are five people. Andrea is the Director, Ági is the Operations Manager, I am the Head of Outreach and Partnerships, Balázs is the Marketing and Communications Specialist and a Data Analyst will join us soon. We really work together, so it is very hard to separate the roles. We all participate in startup mentoring as team gurus, that's a big chunk of what we are doing, but we also have our respective domains of responsibility. Also, there is a huge pool of mentors who we are working with. Currently, there are about 30 active mentors, but if we count the whole mentor pool, there are more than 50 of them.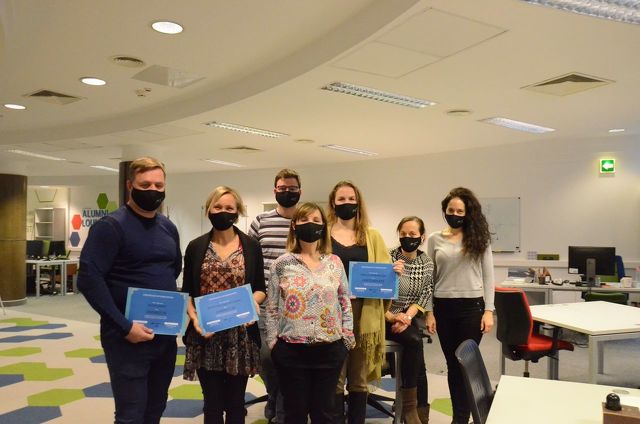 graduation (source: CEU iLab)
How can someone become a mentor?
Anyone who has experience in building a company or worked with business development can become a mentor, no matter if they gained those experience at corporates or at startups. It is very important that even if someone is coming from a corporate background, they should understand that the needs of startups are very different. Mentors are not expected to teach, but rather to listen to the problems and understand them, to offer their network, to point at strategic directions and to facilitate the team's process. We are just starting a program that is funded by the US Embassy, it will focus on introducing the US kind of startup mentoring tradition in Hungary.
How do you appoint mentors for particular teams?
There is a huge amount of thinking and networking behind. We are just in the process of matching the mentors to our new teams. During this process, we have many internal discussions and sessions where we try to identify the best options. The bottom line of the method is always the needs of the startups. All of the startups are in different phases, different industries, different levels of competences, different team dynamics, so it is a very individual process.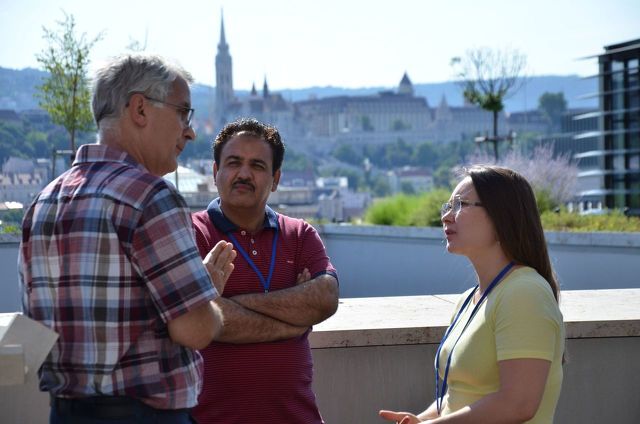 bootcamp (source: CEU iLab)
How is it possible to join you, what preparation is needed for entrepreneurs?
We take two cohorts per year, one in February and one in October, so the next application deadline is September 2021. The process takes three rounds. Anyone who has a team with at least 2 people and an idea can apply. It's not a problem if they are in the ideation phase, but we also have teams who already have sales. They have to put together a pitch deck and a short video about themselves. There is no expectation, only the need to have a personal impression about the team. We really don't want to make it complicated. The process is not really about pitching, rather we would like to get to know the applicants personally and to identify whether those traits are there that we are looking for.
What do you find the biggest success of CEU iLab so far?
Our success story is always the success story of our teams, such as Brokerchooser, Plantcraft, Talk-a-Bot and Salarify just to mention the most successful ones. The number of teams who are applying - close to 100 applications per cohort - is also a very good index of our success. We take 14 teams in one cohort and the basic incubation program is one year. Indeed, there is an opportunity for prolongation, and that's what most of our teams use. If we see the potential, they are able to prolong, and even when the incubation is over, they can stay here on a membership basis. Many of the teams decided to do so, and we are really happy about it.